OER Citra Secret Daily Wash: A Silk Robe For Your Paintwork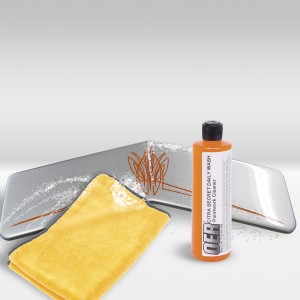 Regular cleaning and detailing is just as important for maintaining paint and other finishes, as regular maintenance is for keeping the engine running strong. Unfortunately, the overwhelming array of ornate products offered by neighborhood parts stores can leave enthusiasts frustrated, especially when all the marketing hype ends in mediocre results. That's why Classic Industries offers a full line of OER Secret Formula professional grade car care products. These products are not available in your corner auto parts store; there are no fancy labels or marketing embellishment. Instead, the results of these products speak for themselves.
OER has made its reputation by offering the automotive enthusiast everything he or she needs to restore a vehicle right. The mentality with their Secret Formula car care products is no different: OER makes sure that each one of their products delivers the utmost protection for your car's interior or exterior.
Combining its pH-neutral properties with a proprietary Extreme Suds II formula to exponentially increase soap suds and foaming action, OER's Citra Secret Daily Wash Paintwork Cleaner glides over your vehicle's exterior surfaces like a silk robe, protecting it from dirt and other debris while keeping your wax and other sealants firmly intact. Citra Secret's unique formula also increases lubricity to assure that debris glides off your paintwork gently while being rinsed off. This leaves your paint free of annoying swirl marks or hazy effects.
We washed our vehicle in the shade with one cap-full of cleaner mixed into 5 gallons of water, according to the instructions on the bottle. Mixed thoroughly, the soap foams up nicely. As an aside, it looks like you could get about 30 washes out of this one 16oz. bottle, which is a very nice bonus.
Using a one-bucket method with a grit guard and microfiber wash mitt (OER's "Secret Formula" Complete Car Care System has a great Grit Guard insert and microfiber mitt), we washed the car from top to bottom, noticing that even sun-baked debris slid right off during rinsing. As Citra Secret is biodegradable and uses the power of citrus to break down dirt and grime, we didn't worry about the soap draining into the gutter as we would with some other products.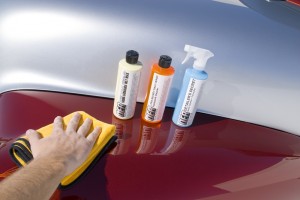 When the car was fully washed and rinsed, we used a blade squeegee and the Miracle Dryer Towel to remove the excess water and then compressed air to get into the body and trim seams. Standing back to admire our work once the job was done, we were impressed by the streak-free shine that Citra Secret imparted to the vehicle.
So next time you are staring at the "wall o' car care products" at your local parts house – trying to choose a product – consider a different choice, not sold just anywhere: OER Citra Secret Daily Wash. There's no funny-looking turtle on the packaging or neon blue or green colorings. What you do get is a silk robe for your paint, which keeps your car looking as slick as the manufacturer intended.
OER's full line of car care products is available at on-line retailers like Classic Industries, Summit Racing, JEGS, and locally from OER dealers around the nation.
Sponsor Ads