Posts tagged "1956"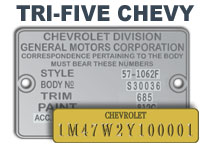 Tri-Five Cowl Tag Identification
General Motors used identification tags to denote equipment, options, and assembly location for each 1955-57 full size Chevrolet passenger car produced. Use this information as a guide to decode the information stored on your cowl tag.

Read the rest of this page »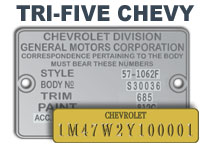 1955-57 Chevrolet VIN Decoder
The Vehicle Identification Number (V.I.N.) plate on all 1955-57 models is located on the left front door hinge pillar post. This number represents the vehicle's unique serial number for use with government agencies and vehicle model identification. Below is a guide for decoding a 1955-57 V.I.N.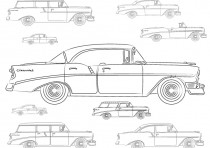 1956 Chevy Model Identification
1956 Chevrolet models were a modest mid-life-cycle update to the groundbreaking 1955 Chevrolet One-Fifty, Two-Ten and Bel Air…