Posts tagged "Biscayne"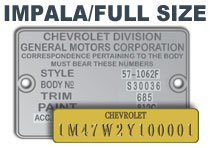 Impala Cowl Tag Identification
General Motors used identification tags to denote equipment, options, and assembly location for each individual Impala, Bel Air, Biscayne, and Caprice produced. Use this information as a guide to decode the information stored on your cowl tag.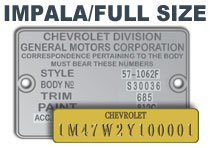 1958-91 Impala & Full Size VIN Decoder
The Full Size Chevrolet VIN Decoder can be used to find basic body characteristics of Impala and other Full Size models, including body style, engine size, model year, and assembly plant.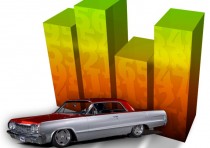 Impala/Full Size Production Numbers
Want to find out just how unique your full size Chevrolet Impala, Bel Air, Biscayne, or Caprice actually is? Use the information below to find out how many Chevrolet full-size models General Motors produced in the same year as your vehicle with the same trim level, paint, interior color, and optional extras.