Posts tagged "Black"
Sleeper Alert: "Black Widow" '57 Chevy 150
How a Parts-Bin Special Became The Most-Feared Competition Car in America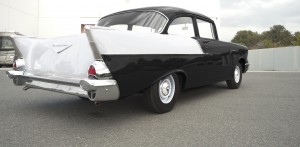 "Black Widow." The name itself struck fear into the hearts of many during the heyday of stock car and drag racing. Born for the 1957 competition year, these unassuming Chevy 150s became the ire of many opponents straight from its inception. The 150s were officially built by SEDCO (the Southern Engineering and Development Company), a subsidiary of Nally Chevrolet of Atlanta. But the company was just a shell for Chevrolet's factory racing program. If there ever was an example of a factory-bred hare-in-tortoise's clothing, the Black Widow is it.
Custom Stripes for the "Black Betty" 4th Gen Camaro
One of the few constants among automotive enthusiasts is the desire to make our cars reflect our individual personalities, and there are many ways to do this. For example, a fresh set of wheels, a louder exhaust, unique body panels, or even a few coats of custom paint can be used to achieve varying degrees of differentiated style, but when it comes down to making your car stand out, stripes are a great option.