Posts tagged "Nomad"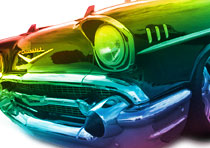 1955-57 Chevy Exterior Paint Codes
All single and two-tone paint codes for 1955, 1956 and 1957 models. These codes are taken directly from the original dealer books and are extremely accurate to the paint colors originally offered.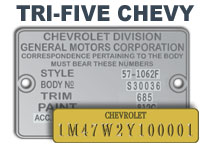 1955-57 Chevrolet VIN Decoder
The Vehicle Identification Number (V.I.N.) plate on all 1955-57 models is located on the left front door hinge pillar post. This number represents the vehicle's unique serial number for use with government agencies and vehicle model identification. Below is a guide for decoding a 1955-57 V.I.N.