Posts tagged "Tri-Five"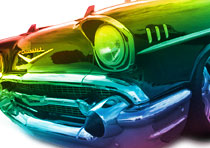 1955-57 Chevy Exterior Paint Codes
All single and two-tone paint codes for 1955, 1956 and 1957 models. These codes are taken directly from the original dealer books and are extremely accurate to the paint colors originally offered.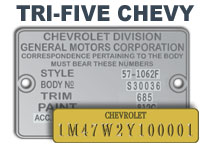 Tri-Five Cowl Tag Identification
General Motors used identification tags to denote equipment, options, and assembly location for each 1955-57 full size Chevrolet passenger car produced. Use this information as a guide to decode the information stored on your cowl tag.

Read the rest of this page »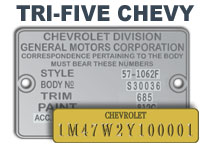 1955-57 Chevrolet VIN Decoder
The Vehicle Identification Number (V.I.N.) plate on all 1955-57 models is located on the left front door hinge pillar post. This number represents the vehicle's unique serial number for use with government agencies and vehicle model identification. Below is a guide for decoding a 1955-57 V.I.N.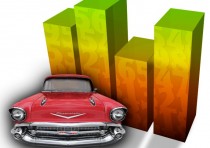 Tri-Five Chevy Production Numbers
Want to find out just how unique your classic Chevrolet actually is? Use the information below to find out how many Tri-Five models General Motors produced in the same year as your vehicle with the same trim level, paint, interior color, and optional extras.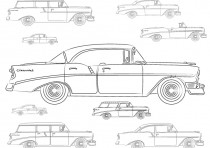 1956 Chevy Model Identification
1956 Chevrolet models were a modest mid-life-cycle update to the groundbreaking 1955 Chevrolet One-Fifty, Two-Ten and Bel Air…